[VIEWED 54521 TIMES]

SAVE!

for ease of future access.
The postings in this thread span 2 pages,
go to PAGE 1
.
This page is only showing last 20 replies
Posted on 08-11-08 6:18 PM
Reply
[Subscribe]
Login in to Rate this Post: 0

?

There is no doubt that Nepal is rich in natural resources but instead of repeating this thousand times we need to wisely identify and utilize our resources. In fact Nepal has great potential in water resources, forest resources and land resources. No matter how many people work or depend in agricultural sector, Nepal is never going to be exporter of agricultural products or even independent on it. If we can stabilize political situation in Nepal, tourism may appear as the biggest industry of the country. But what about minerals? Lots of Nepalese think that we have numerous mineral deposits but this is not the reality. We don't have huge metallic deposits in Nepal but still we have some good non-metallic deposits of magnesite, limestone and others. Another good possibility is in gemstones. Some deposits of aquamarine, garnets, sapphire, ruby quartz and kyanite are already in the stage of exploitation. But the biggest problem in the gemstone industry is that the local investors don't have access to the international market and they produce only raw from the mines. This makes the huge difference in what they get and what the Indian traders get from the international market. If we become able to only cut the gemstones in good shapes and sell in international markets we will have greater profit. Of course there are some limitations of Nepalese gem industry. As Nepal lies in tectonically active area, we can't expect bigger size of gemstones and also this industry will not consume higher number of people.
Here is one link where you can see the price of Nepalese kyanite in international market after cutting and polishing where in Nepal we are selling raw kyanite NRs 700 - NRs 6,000 as far I know depending on various properties like size, shape, color.
conversion factor 1 carat = 0.2 gm
Last edited: 11-Aug-08 06:21 PM
The postings in this thread span 2 pages,
go to PAGE 1
.
This page is only showing last 20 replies
Posted on 08-12-08 2:27 PM
Reply
[Subscribe]
Login in to Rate this Post: 0

?

GT pro khali SONA ra PANNA ko pachadi matrai lagcha

Posted on 08-14-08 3:01 PM
Reply
[Subscribe]
Login in to Rate this Post: 0

?

Yeah, GT you came out with a very good option for the economic development of our country.
This idea is great .
Aren't our local business men not able to cut the gemstones into the good shapes ?
I am wondering if the equipment required to cut gemstone so expensive that Nepalese businessmen can't afford.
Well these are my blind questions .
Your ideas are great and hats off to you bro ...
Posted on 08-14-08 4:22 PM
Reply
[Subscribe]
Login in to Rate this Post: 0

?

vname, you have very good information about distribution of the gemstones in Nepal and khai ke khai ke, you are absolutely correct about our resources development. riten as amitraja and ritthe said pushparaj is known as yellow sapphire. And for Maverick, there are many more things in the world to know if you can get time from girls.
abnish, of course we can enrich these gemstones in Nepal. The required machinaries are also within reach of our local businessmen. Some of them have already started there work on it. But we need more skilled labors. Indian labors are world reknown for the gemstones enrichment. Some of our local businessmen have also established an organization. It has the link to the map showing the distribution of the gemstones in Nepal. This is not the good map, however it is useful for basic information.
http://nrmassoc.org/Major%20Gem%20Localities%20in%20Nepal.pdf
Posted on 08-16-08 2:13 PM
Reply
[Subscribe]
Login in to Rate this Post: 0

?

Proper mining techniques and skilled labors are what we need now in our gemstone mines. People are simply using chisel and hammer for breaking the rock masses which contain gem crystals. Not all gems have greater hardness than hammer (iron). Even some people are using explosive for blasting the rocks. This may cause severe damage to the crystals.
This crystal is from Barala vdc, Achham where I went for the exploration of one deposit. The cracks seen in this cystal are due to hammering.
Can anyone guess what gemstone crystal is this?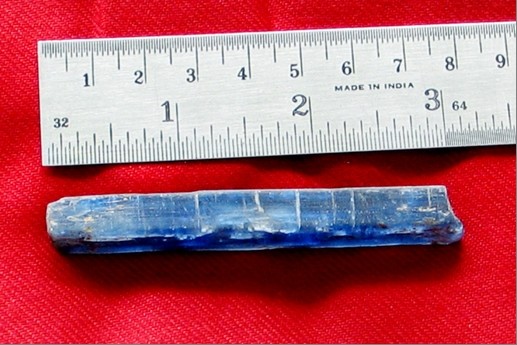 Last edited: 16-Aug-08 06:37 PM
Posted on 08-17-08 4:12 PM
Reply
[Subscribe]
Login in to Rate this Post: 0

?

I had never imagined this discussion could be so much informational.
THanks a lot to Geology tiger.
The potential of gemstones in Nepal seems very good if we have the skilled labours on the gemstones so that we can compete with the quality exported by India.
Wow, you look a real researcher. The picture is awesome.
I think the gemstone on the picture is kyanite.
I just did this guess because of its blue color, pearly lusture and translucence which best describes the proerties of kyanite. In addition to this, the link you provided above has the information about kyanite. So in light of these I think this is kyanite. THough I am wrong , I am glad that I now know some properties of kyanite.
Thanks again.
Posted on 08-18-08 8:30 PM
Reply
[Subscribe]
Login in to Rate this Post: 0

?

It seems abnsih is only one janifkaar abt gemstones in sajha. Anyway abnish I really appreciate your effort and your logical reasoning. You are absolutely true about idenitifying the mineral.
Posted on 08-19-08 6:20 PM
Reply
[Subscribe]
Login in to Rate this Post: 0

?

GT,
What is MT or MCT and where is it? - just curious to know.
Posted on 08-20-08 10:42 AM
Reply
[Subscribe]
Login in to Rate this Post: 0

?

Unicornis bro,
Actually I started this thread to give and get infomation about gemstones in Nepal but now it is getting into hardcore geology. You threw such a question which looks simple at general but if you start to dig more it will appear as the greatest dilemma in himalayan geology. But I don't want people over here to get into this trouble.
So in general words, MT = Mahabharat Thrust and MCT = Main Central Thrust are the large scale discontinuties in the rock that is extended over the himalaya. As all of us know that Indian contient is moving towards the north and Tibet is fixed these discontinuties were developed. It is believed that along these discontinuities rock mass moves and that will release energy created due Indian continental push. Besides MCT, and MT we have other master thrust like MBT (Main Boundary Thrust), MFT (Main Frontal Thrust) and STDS (South Tibetian Detachment System). Among all these thrusts now MFT is considered as most active along which movement of the rock masses is taking place. Unlike, MCT which is distributed along the whole length of Himalaya, MT is only found around the Kathmandu valley and there is great debate among senior Nepalese as well as international geologists whether the MT is part of MCT or separate.
And these thrusts do have implications on our daily life specially while talking about construction work. While constructing roads, bridges, dams or tunnels we try to avoid the area around these thrusts. The rock masses around these thrusts generally have several cracks and discontinuites which make rock mass weaker and our structure will be unstable. But sometimes we can't avoid these thrusts specially while constructing roads and as result we will have landslide on the road during the rainy season. Engineers usually perfom RMR (Rock Mass Rating) of the site to evaluate it for the construction.
This thrusts not only have negative role, some mineralizations may occur along these thrusts and all of our hot water springs are formed due to these thrusts.
Below here is the geological map of Nepal by BN Upreti and others, which shows the location of different thrusts as well as different types of rocks in Nepal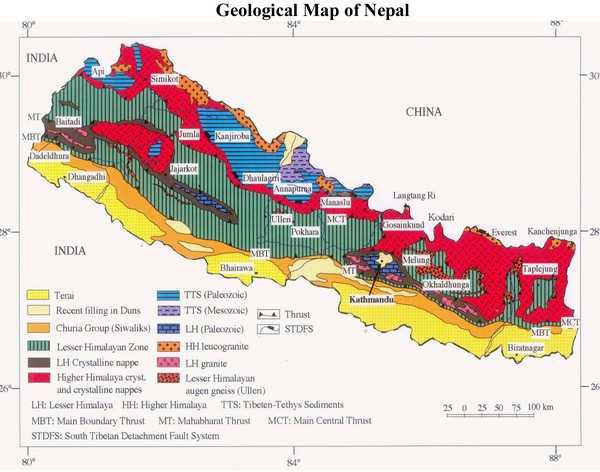 Map: BN Upreti and others
Last edited: 20-Aug-08 01:01 PM
Posted on 08-21-08 10:35 AM
Reply
[Subscribe]
Login in to Rate this Post: 0

?

Thanks for the info.
BTW, do you know Dr.Rai from TU (TC)? I was in touch with Dr.B.N Upreti through emails. He used to be Dept. Head onwe time.
But anyway, thanks again.
Are u doing master's or PhD here in US?
Posted on 08-21-08 11:25 AM
Reply
[Subscribe]
Login in to Rate this Post: 0

?

Unicornis Bro,
Dr. Upreti was dean of Institute of Science and Technology (TU) when I visited Nepal last time (June-July 2008) for my fieldwork and Dr. Rai was head of Geology Department, Tri-Chandra Multiple College. Dr. Upreti was telling me that he would leave that position pretty soon and come back to Tri-Chandra Multiple College. So I don't know the current status of both of them. And one thing, I had taken courses with both of them. And about me, I am doing master's over here. You have already written me that you are not from geology background. But I will like to know about you.
Posted on 03-15-11 3:31 PM
[Snapshot: 2486]
Reply
[Subscribe]
Login in to Rate this Post: 0

?

hello mr geology tiger, it was such a nice and informative things and research kind a works you have done, and it really help me a lot, thanks, but i think that stone must be called topez (pokhraj) i think, anyways about the gemstone of nepal , instead of discussing we should do something like opening a project , a small project with little contribution and then go for world bank for further investment, why dont we try, i am also in a business for around 13 years, we dont we give a try.
best regards
Posted on 03-15-11 8:11 PM
[Snapshot: 2574]
Reply
[Subscribe]
Login in to Rate this Post: 2

?

Liked by
Hey rabbitwood,
Thanks for bringing back this thread. Wow!.... it is already more than three years since I started using Sajha.
Anyway rabbitwood bro, I used to be involved in mining industry before I ran away from Nepal and know little things about mineral deposits and mining in Nepal. And when I got this common platform of Nepalese people 'Sajha', I thought I should share my knowledge with others and started this thread. If you are really interested in mining industry and want to start small project we can talk to each other about that. I won't be able to do lot of things but I will share whatever the knowledge or experience I have earned through my study and work. There are few hurdles to run mining industry in Nepal but if you become able to overcome those, then you will definitely make good profit from it.
And if you are taking about the blue gemstone in the picture above, that is kyanite. I don't think we have proper Nepali name for this mineral. In my first post you can also see link to one website that is asking for US $ 900 for 1 gm of kyanite from Nepal. When I was in Nepal, Indian traders used to buy raw form of that kyanite for NRs. 500 per kg. Look at the price difference after just cutting and polishing that gemstone.
BTW, are you in US? If yes give me your cell number in email so that we can talk more about this.
Cheers,
Last edited: 15-Mar-11 08:17 PM
Posted on 03-15-11 8:23 PM
[Snapshot: 2589]
Reply
[Subscribe]
Login in to Rate this Post: 1

?

Liked by
thats where your name Geology came from :) , just guessing !!
Posted on 05-21-13 2:29 AM
[Snapshot: 4802]
Reply
[Subscribe]
Login in to Rate this Post: 0

?

Geology tiger dai plese contact blicku23@gmail.com (Rabin). in deperate need of info.
Posted on 05-21-13 6:01 AM
[Snapshot: 4846]
Reply
[Subscribe]
Login in to Rate this Post: 0

?

ब्यपपर ग्राम साथी हारु ब्यापार
GT लै तेस्तो थाहा छ, gemstome काट्नी training लिन पर्यो, नेपाल मै cutting गराए पनि हुन्छ (सस्तो पर्ला )
येस्मा २ टा ब्यापार गर्न सकिन्छ . गेम्स्तोमे wholesaler अथबा उस विदे छैन नै खोले पनि हुन्छ सुरु मा जहाँ बादी बिक्छ तेही. फचे बुक साझा को network use गरम,
नेपाली र भारतीय बढी भएको ठाम मा सुरु मा एउटा पसाल खोलाम , भारतीय हारु पोखरा मा आएर सुन किन्छन , २४ क्यारेट को गहना बनाउ, ( धेरै काम ज्वेलेरी मात्रै बन्छ २४ क्यारेट को ) जस्तै बेरुवा औठी , प्लेन ब्रच्लेट, भारतीय हारु २४ क्यारेट को सुन भनेपछि भुत्तुक्कै हुन्छन, बिसेष गरेर पुरानो generation .
हो मलाई थाहा छ , कसै ले सुरु गरि सकेक्का छन्, तर सुरु भै सक्यो वनेर घाम तापेर बसेर केहि हुदैन
पहिला hi5 थ्यो, my space आयो, लास्ट मा बाजी face book ले मार्यो
Posted on 05-21-13 9:39 AM
[Snapshot: 4919]
Reply
[Subscribe]
Login in to Rate this Post: 0

?

@mirjan: check your inbox
@ TMS: Sahi ho TMS bro, garne kura dherai chan...garne thau pani dherai chan... garne manharu pani chan ... tara kehi huna sakeko chahi chaina.... nepal ko paharaharu ma chalaunu parne haat computer ko keyboard ma badi chalera nai sabai khattam bhako ho ....
@ San dai... San dai khai tyo Archived entries haru ko link ma ta kehi khuldaina ni .... sabailai nabhaye pani maile kasai kasailai kaam lagne thupro info rakheko thiye.... ek choti heridinus na dai... plz
Posted on 02-18-18 12:30 PM
[Snapshot: 19852]
Reply
[Subscribe]
Login in to Rate this Post: 0

?

Hi, I've been involved to gem business for last one year. If you could spare some time. Let's talk
Posted on 02-19-18 11:06 AM
[Snapshot: 20060]
Reply
[Subscribe]
Login in to Rate this Post: 0

?

I am following too, a friend of mine is opening a gemstone kiosk at a mall.I also got a relative who owns 4 gemstone stores in ktm and they make all the jewelry in house. They have been asking me to help them to expand in US but I dont have any experience in this field.
Thank you in advance.
Posted on 02-19-18 11:13 AM
[Snapshot: 20064]
Reply
[Subscribe]
Login in to Rate this Post: 0

?

@looser..go work in that mall with your friend perhaps...even part time would be great..Wtihin few months you'll have your own...also people do great business through Etsy..on these kind of craft businesses. May be open an Etsy account, have your family memeber in Nepal response to questions from customers..and you be the point of contact for that page..with phone number etc
Last edited: 19-Feb-18 11:15 AM
Posted on 03-22-19 11:24 AM
[Snapshot: 39959]
Reply
[Subscribe]
Login in to Rate this Post: 0

?

wow, something....like great opportunity for nepal...